Dust off those brain cobwebs and write an RPG in 24 hours and give it over to the world. If you manage to stick to our rather bizarre
set of rules
you could be in the running for £30. Yes, that's thirty of your Great British Pounds in tasty Amazon vouchers!
Rules? What rules?
There's not hard...
Pick a topic from the list



Spend 24 hours writing a roleplaying game on that topic.


Make sure you include an NPC called Keeton (the glorious benefactor of 1KM1KT) in your game.


Upload your game to 1KM1KT by 00:00 (GMT) 1st July 2009.


Make a thread on 1KM1KT about your game. (Optional but we'd like you to)


Check back on Friday 17th of July 2009 to find out who the winner is, or check on The Free RPG Blog.


Oh, and obey all the other 24 hour RPG rules
That's it? Easier than herding cats. More interesting than philately. Better than the horizontal mambo. Well, nearly.
I want to help!
Well, that very neighbourly of you. A link here or to 1KM1KT would be lovely, or you might like to consider one of these lovely advertising nuggets.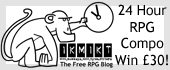 Will you be actually be making one?
Yes. It might well near kill me but I'll be making one. I won't be entering it in the competition to win the Amazon vouchers because, well, that would be bloody stupid. I'll let you know of the weekend I'm doing it and then
Tweet
as I go.